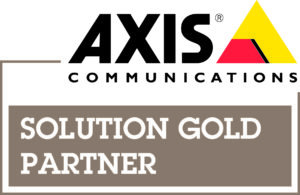 As an Axis Gold Partner, we can provide you with a complete A-Z AXIS IP network video solution. We can also help you transition from an existing CCTV system using video encoders and bring your system up to speed with the latest network technology while protecting the value of your investment.
Video encoders give you immediate network video benefits as well as a platform to expand and update your infrastructure with network cameras, software and networking devices later on.
Then when it's time to replace some more – or all – of your analog cameras, you can take the next step on the path to a superior network video solution a single – or
many – cameras at a time.
You can even reuse your hard-to-replace coax cabling with the help of Axis coaxial converters.
4 Great Reasons to Choose IP Surveillance
It won't come as a surprise to anyone that cameras are an important part of an effective security system. But how does an analog camera differ from a connected IP camera?
Here are some of the reasons to choose network surveillance cameras.
Better image quality
Lower total costs
Built-in intelligence
Scalable and future-proof
Better Image Quality
Axis network cameras provide excellent image quality regardless of lighting conditions and the characteristics of the monitored areas.
Clearer images
Axis network cameras can deliver up to 4K image resolution, and the HDTV cameras support SMPTE standard.
Smoother movement
Moving objects come out clear and flicker-free. The images are more useful for surveillance, thanks to progressive scanning used by Axis as compared to analog interlaced scanning.
In any light
Unlike analog cameras, Axis network cameras can compensate for less than optimal lighting: Axis Lightfinder gives you color images in low light and Forensic WDR delivers excellent detail in scenes with both bright and dark areas. OptimizedIR ensures high-quality and low-noise even in complete darkness. And Axis thermal cameras are accurate even in pitch darkness and fog.
Lower Total Costs
Even though analog cameras are less expensive than network cameras, you may need more of them. Accompanying labor costs and expensive equipment tip the
scales in favor of network cameras.
Fewer cameras
Axis HDTV cameras, can cover up to 360˚ and show zoomed-in sections and the full view at the same time. Analog cameras can only show one view each. Installing fewer cameras keeps installation and maintenance low. And streaming selected areas individually minimizes bandwidth and storage needs.
Less cabling
IP cameras connect easily to your existing data network. With Power over Ethernet (PoE) one cable per camera provides power, video, audio and data, making installation easy without the need of a power outlet close to your camera. This is even true for Axis multi-sensor cameras.
Built-in Intelligence
Analog cameras do one thing: record video. But network cameras combine intelligent features with direct notifications and remote monitoring.
Fewer security patrols
Our intelligent video solutions can send alerts of different kinds when a problematic situation arises. And set off an alarm when an unauthorized party crosses a predefined line or someone tampers with a camera. You can also choose to monitor high-quality live video from a central location. Either way, you'll save resources and money – and keep your premises safe – without the need for constant staff presence.
Scalable and Future-proof
A network camera system is easier to extend than an analog system and with Axis as your supplier, you're not locked in to proprietary technology.
Open standards
Axis network cameras are based on open standards. So you can use standard components and add intelligent analytics to turn your cameras into business tools. And you can connect your network camera system to other systems – like audio and access control.