The Connect the Classroom scheme is changing the way schools live, work and learn.

---
The DfE has pledged at least £150m of new funding under the 'Connect the Classroom' scheme to ensure our schools can benefit from access to reliable and super-fast wireless network services.
Now is the time to look to your school's future; consider your own plans to tap into funding that will provide the resources and cutting-edge Wi-Fi tech to allow any student – or teacher for that matter – to be able to walk into any classroom totally confident that everything in it works.
The vision is for the UK to be a science and technology superpower, and for our schools to be in the vanguard developing the next generation of UK and global talent to ensure this happens.
If we get the connectivity right, the technology and services that will help all of us make better decisions is sure to follow. £150 million, which contributes substantially to upgrading those schools that are struggling with minimum Wi-Fi connection capability, helps to close the connectivity divide and opens up new opportunities and digital horizons for education in this country – and children -across the region and beyond. And Advantex, with its relevant experience (we were part of the initial Connect the Classroom pilot scheme and delivered several schemes), expertise and wherewithal, is ready, capable and well placed to support your needs.
By delivering superfast internet connectivity into schools using the very latest wireless and switching infrastructure, we can put the benefits of interactive and internet-powered technology at everyone's fingertips.
Indeed, the potential for what we can do with the right tools is a truly exciting prospect – as well as a rewarding one. That's why providing powerful digital connectivity 24/7 to our schools is paramount; your school will be able plug into a rich resources of eLearning tools and bright, undimmed teaching opportunities.
---
When it comes to any school resources, from textbooks to white boards to AV units, teachers need to know that they will work and that they will help pupils learn. Previously, we know that schools have invested precious cash in buying tools that were either not fit for purpose or not what they needed which is why it must be made easy for schools and families to use the right products at the right time for their learners.
Education is on an ongoing journey of tech discovery and edtech partners need to be ready and able to respond to deliver the products for successful learning outcomes. And what does success look like? Hard to say, but the tech landscape will definitely look different, even a year on from today. One thing is for sure, investment in superfast connectivity is the lifeblood that will power future generations, navigating them through the great challenges that lie on the road ahead.
We also need teachers to be totally comfortable and adept with technology and we need children to be tech-literate from a young age.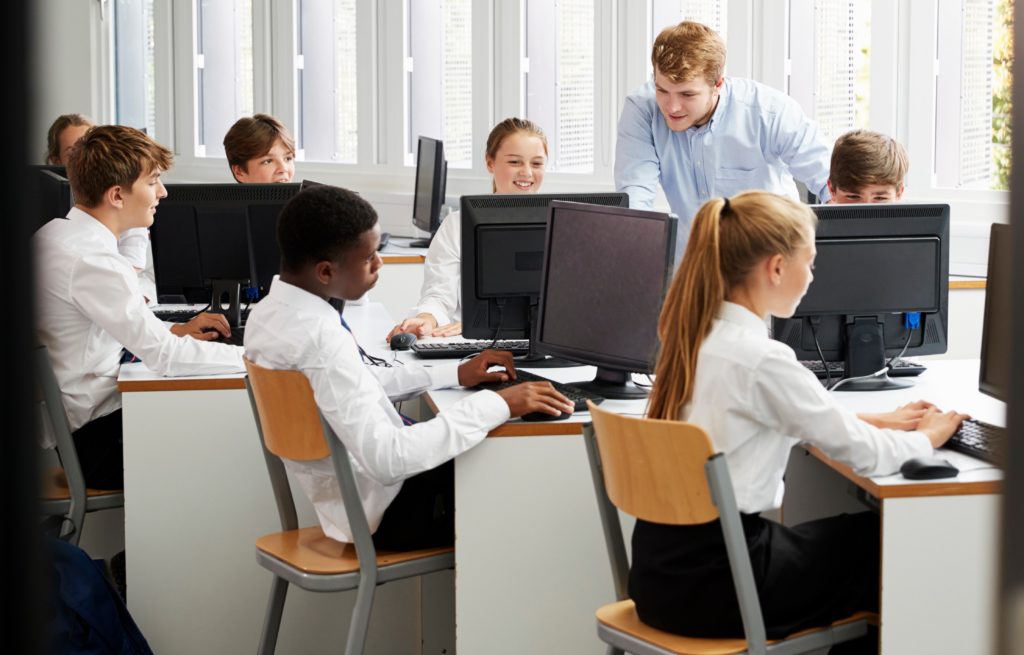 So, with a strong technology infrastructure for every school, data working effectively to support decision making, an evidence-based market for edtech tools, and digital skills developing at pace, multi-million-pound investment puts us in pole position for whatever technological revolution is just around the corner.
Despite all the challenges such as the pandemic, this is the one of the most energetic, colourful times to be in education. It's going to be so exciting to see how far or how fast we're going to travel together as we embrace and adopt new schools' equipment. Investment in connectivity will put more computers and eLearning opportunities in the hands of thousands of currently disadvantaged children and young people.
And Advantex can help to design and deliver DfE compliant systems and solutions. We can design and install superfast connectivity solutions for the region's schools to deliver unprecedented reliability and download/upload speeds of up to 10Gbps; all backed up by 24/7 technical expertise and aftersales support packages.
CLICK HERE to find out how Advantex can provide your school with new and improved Wi-Fi funded by the DfE!